Meet Claudia, a true entrepreneur
Today i want to talk about Claudia
A charming, intelligent woman, housewife, entrepreneur, wife and mother... A true heroine! Claudia is the owner of a farm called VILLA LUISA.
To get there we crossed rivers with crystalline waters that originated high in the mountains. We had the opportunity to see and hear the hundreds of differents birds that cross the bird watching route lands called "Entre Cantos y Colores", in Valle del Cauca. This route is part of the "Corredor Turístico de la Montaña", located in the rural area of Tenerife, in the municipality of El Cerrito - Valle, a region recognized for its wonderful biodiversity.

After an hour of vigorous walking you reach the end of the trail and find magic! They have a small but beautiful house, two room and their kitchen. They have not only coffee plants but many beautiful plants, fruits and flowers.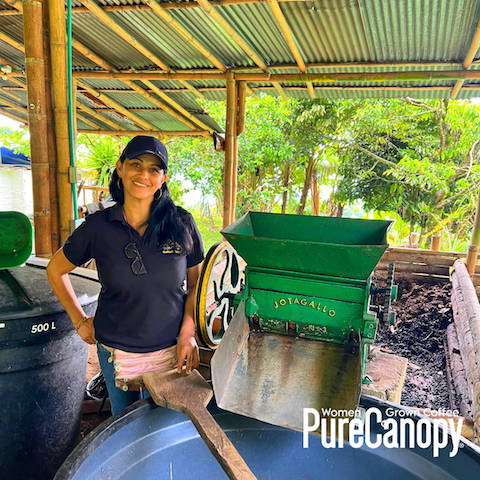 There even different varieties of orchids! I can still see Claudia's smile talking to me about her love for orchids.

Her husband, a man with innocence in his eyes, is waiting for us early with lunch, a delicious "fiambre" He is in charge of helping Claudia with everything, since their have around 3,000 coffee bushes, they also prepare organic fertilizers, take care of bee crops, they also have horses.
In the nearby town their have a shop where they sell their own coffee brand and prepare delicious coffee-based whiskey creams with natural products. Claudia is part of the group of 350 women affiliated with the coffee cooperative with which we work. Part of our Pure Canopy coffee comes directly from her beautiful farm.
Every day i am reminded more and more, that the flavor is in the cup but the beauty is in the mountains. cheers!
~ NATALIA ~